James Turner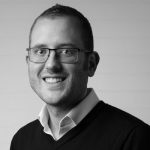 Associate Architect, Mikhail Riches
James joined Mikhail Riches in 2014 to work on large scale, well detailed residential projects and was made an Associate in 2016. James' expertise is in leading project teams through all stages, in particular through detailed design and construction using his experience in quality control, risk management and project delivery. He plays a key role in liaising with clients on a day to day basis and point of contact on projects.
James is the Associate in charge of Goldsmith St, Hackney Small Sites and St Andrew's Riverside using his experience of working with local authorities to enable local authorities to deliver quality housing at scale. James has a general overview of all projects in the practice offering technical advice and experience to the team and mentoring Part 3 students in practice and contract management.
James is currently leading the completion of Goldsmith St for Norwich City Council the largest 100% Passivhaus, 100% Social Housing scheme in the UK and aims to encourage more local authorities and developers to build to this standard at the scale and quality achieved at Goldsmith St. James has presented at the Passivhaus Conference, to the RTPI and is working with the Green Register and Passivhaus Trust to promote good Passivhaus design within construction.