Marion Baeli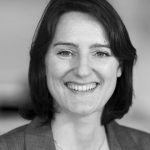 Partner, PDP London
Marion qualified from Paris Belleville School of Architecture (France) in 2001, UCL Bartlett School of Architecture Part III / ARB (UK) in 2003 and UEL School of Architecture MA Sustainability and Design in 2010. She joined PDP London in 2005 and was made an associate in 2008.
Her passion for sustainability and low energy design led Marion to take part and win a contract as part of a government competition, Retrofit for the Future, which in turn led to the delivery of the award winning 100 Princedale Road project, the first certified Passivhaus retrofit in the UK.
Her work on Princedale Road contributed to the practice winning several awards including: 'Best Sustainable Practice of the Year' from AJ100; 'Best Small Project' from AJ Retrofit; 'Gold Award for Architectural Heritage' by Green Apple; 'Best Sustainability Project' by the London District Surveyors Association.
Marion also co-heads the office's 'green group', which focuses on creating a practice specialism and ensures that sustainability is integral to all PDP London's designs. As well as this, she is actively lecturing on the subject of energy efficient retrofits in the UK and abroad.