Gareth Selby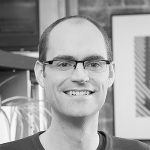 Associate, Architype
Gareth is currently an Associate with eight years experience working at Architype having before worked as at practices specialising in housing and community projects in Nottinghamshire, and for a short spell as a mechanical engineer.
Gareth has worked on a number of Passivhaus projects in the office and is currently working on the University of East Anglia's Enterprise Centre that is set to be the largest Passivhaus in the country and Hackbridge Primary School, which is also designed to be Carbon Zero. Gareth is also a project manager on the RAPIERE software project in lifecycle carbon. The RAPIERE software project being collaboration between Architype, Sweet Group, Chapman-BDSP and Green Space Live to produce a fast, cloud based, lifecycle carbon and cost software.
Gareth is a Trustee for a children's charity called Mat to Fore based in Ghana, and a Director of a Charity called CREATIVenergie that delivers training and exemplar projects in appropriate construction and energy technology, currently with projects in Kenya and Ghana.
Gareth graduated from The University of Nottingham in 2007 after completing a joint engineering and architecture degree Architecture and Environmental Design, qualified as an Architect in 2008 and as a Certified Passivhaus Designer in 2012. Gareth has also received a certificate in biogas design from BSP-Nepal in 2011.